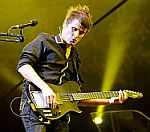 Muse
have released a video of themselves recording their new album in a toilet cubicle.
The video – see below – shows singer Matt Bellamy, bassist Christopher Wolstenholme and drummer Dominic Howard recording finger clicking.
After a failed attempt, Bellamy flushes the toilet before they recommence clicking.
As previously reported, Bellamy revealed yesterday (March 2nd) that the group were half way through completing their next album, which will feature a new classical direction.
The singer described the album as "symphonic" - and said it included "a full on collaboration with an orchestra".
The follow-up to 2006's 'Black Holes And Revelations' is due to be released towards the end of the year.
Bellamy also said the group hoped to return to performing live in the autumn.
(by Jason Gregory)