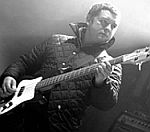 Pete Doherty
and
M.I.A.
are among the artists scheduled to appear on the debut album of Andy Nicholson, the former bassist in the
Arctic Monkeys
.
Nicholson's new band, Mongrel, will also feature Arctic Monkeys drummer Matt Helders, Jon McClure from Reverend and the Makers and Babyshambles bassist Drew McConnell.
Speaking to Billboard, McClure said: "I'm the singer, Lowkey raps and then we've got a few features from other people.
"We had Saul Williams come in and do a thing on it and hopefully M.I.A. is going to do something and maybe Pete Doherty. It's got a good flavour."
McClure, who describes the album as "an important record", said that he was paying for the production himself.
"We're saying things on this record that nobody's really had the bollocks to say in the last eight years," he said.
"We're really taking a few people to task, kind of like we're Public Enemy or something."
Mongrel's debut album is due out later this year. A tour is expected to coincide with its release.
(by Jason Gregory)