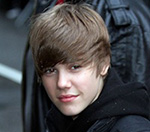 Justin Bieber
has offered to play a private gig for David Beckham in return for football lessons.
The US teen singer has said he will perform for the LA Galaxy star's children, who are all understood to be big fans.
"I am sure he would do anything to make his three boys happy and if I am their favourite artist I would happily come and put on a private show at the Beckham household," he told The Sun.
"All I would ask for in return is that we go into his yard for an hour afterwards and he teaches me all those crazy things he can do with a soccer ball."
Beckham is already popular among the music world, with the likes of Snoop Dogg all claiming to be friends of the footballer.
As previously reported, Bieber is set to perform at next month's MTV Video Music Awards in Los Angeles.
(by Jason Gregory)