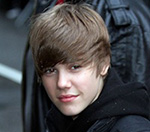 A video of
Justin Bieber
being bottled at a gig has emerged online.
The incident occurred as the 16-year-old teenage hip-hop sensation tried to address the crowd during a gig in Sacramento.
After being struck in the face, Bieber said: "Ow! That didn't feel good, I don't know why she just threw that at me."
The incident took place in December, but video footage has only just been published for the first time.
Meanwhile, former Marky Mark star Mark Walhberg has said he would considering reigniting his career to work with Bieber.
"If Justin Bieber asked me, I'd do that for my daughter," he said.
(by Jason Gregory)