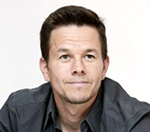 Actor Mark Wahlberg has said he may reignite his career as rapper
Marky Mark
if it meant being able to work with
Justin Bieber
.
Wahlberg found fame in the early 90s recording as Marky Mark and the Funky Beach.
But he has since gone on the launch a successful acting career, including an Oscar-nominated appearance in 2006 movie The Departed.
In an interview with Time.com, Wahlberg said initially that there was "not a chance" he would ever return to his hip-hop routes.
But he then added: "Actually, I'll take that back. If Justin Bieber asked me, I'd do that for my daughter.
"She loves me to death, but she doesn't think I'm very cool, so that might turn it around."
Wahlberg most recently appearance in the 2010 movie Date Night, starring Tina Fey and Steve Carroll.
(by Jason Gregory)