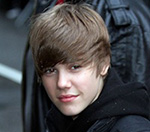 An internet prank has selected North Korea as the country
Justin Bieber
should tour next.
The singer's website is currently giving users the chance to vote where the Canadian star should perform.
But imageboard website 4Chan have hijacked the vote, and urged its users to vote for the communist nation.
North Korea, which denies internet access to most of its citizens, is currently ahead of Israel and Poland in the poll.
The prank comes just days after 4Chan rallied its users to make "Justin Bieber Syphilis" appear on Google's Hot Searches list.
In another stunt at the weekend, visitors to Bieber's YouTube page were re-directed to pornographic websites.
(by Jason Gregory)