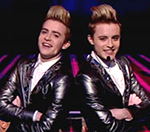 Jedward
are falling behind the the race for this week's number one single.
On Tuesday, the Irish twins' Vanilla Ice collaboration 'Under Pressure (Ice Ice Baby)' was a mere 24 copies behind Owl City's 'Fireflies'.
According to figures released today, Owl City have now increased their sales lead to more than 4,000, leaving the hyperactive X Factor rejects in the shade.
Solace can be found, however, from the fact that Jedward rare likely to get a huge sales boost when the physical version of the single hits the shelves on February 15.
(by Scott Colothan)