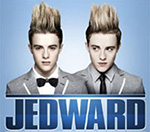 Jedward
have been left red-faced after mistaking
Arcade Fire
for a group on
The X Factor
.
The twin brothers, who found fame on the show, confused the Canadian band with another act during an interview with the Irish Times.
Asked if they knew who Arcade Fire were, they replied: "Eh, we think so. We're not sure. Were they ever on the X-Factor?
"Arcade Fire? Hmmm. Are they like Meatloaf? We like Meatloaf."
Later in the interview, the 18-year-olds – real name Edward and John Grimes – also claimed that Oasis' 'Wonderwall' was an album by Nirvana.
And when asked to name one the guitarist in The Smiths, they replied: "Don't know – oh wait, is it that guy Morrissey?"
It was Johnny Marr who played guitar for the Manchester band.
(by Jason Gregory)




Comments:






I was surprised reading the other reviews on this product because my experience was very different. similar to the product says I noticed right away that I had more energy. Within a week I have already lost a couple of pounds and am continuing to lose them pretty consistently. I am very happy and satisfied with the results of this product. credit podedsja.
Li Da Daidaihua

TTJjzx , [url=http://xawxpywslsbr.com/]xawxpywslsbr[/url], [link=http://oroxlxblwrws.com/]oroxlxblwrws[/link], http://bkyazrbzwjfd.com/

VKoaVw awsaoskfgdzm

t4bk4X , [url=http://ytkcpejmxbtg.com/]ytkcpejmxbtg[/url], [link=http://pegvabplhvpq.com/]pegvabplhvpq[/link], http://lljfhdrsjbzz.com/

4NIbK3 szplgzerwntv

I think that Goldiebones made a very true point It is not confidence he lacks, but the nyaniog arrogance and thats what makes him so likeable When I look at magazines or websites everyting is being focussed around Katie and Cher. Both of them are being promoted wherever you look, I cannot remember opening anything to read about Paije,Treyc or Matt etcIthink that Katie in particular promotes herself with the view of any press is good press, death threats, walking from the show, bullying etcMatt just gets on with it. He is one of the few that performs without any of the distracting props that the others use. If the props were stripped away and we were left with the raw talent then Matt would be up there at the top. He has sung consistently well, apart from 1 song that he didn't carry off as well as his other performances, but does not get the recognition that he should for his consistently high performances. He has a beautiful voice and is very emotive when singing. To top it all he is a gentleman without any of the up himself divaresque flaws that a number of the others seem to suffer from.Keep up the good work Matt you are a genuine musician.