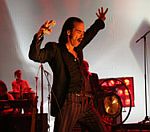 Nick Cave
has confirmed that he is ready to record a new
Grinderman
album as soon as he has completed their upcoming festival tour.
The Bad Seeds only released critically acclaimed 'Dig!!! Lazarus, Dig!!!' earlier this year, but Cave is itching to get back in the studio with his Ginderman project.
He told Xfm that he aims to take things more serious with the follow up to their 2007 eponymous debut.
"The thing about Grinderman was that we just threw out the (debut) record and we made it very quickly. We wondered about it's affect on us and it was hugely important on The Bad Seeds."
Grinderman, which consists entirely of members of The Bad Seeds, is a project that Cave professes will never have to lose its creative freedom.
"The thing that Grinderman will remain committed to is that it doesn't matter; if the whole thing goes belly-up and if people really hate it then we don't care because we have the Bad Seeds anyway so that gives us an enormous amount of freedom to go and spend three months in Bulgaria or something."
Cave is set to use his Grinderman's festival appearances as a way of getting in the right frame of mind for recording their new album, which is currently pencilled in for a 2009 release.
"We're going out in a playing mode so we can get in the mood for making the new record, that's why we're doing the live stuff."
(by James Dannatt)