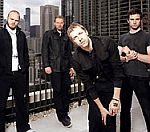 Coldplay
frontman Chris Martin stormed out of a radio interview last night (June 12th) after he was asked about the bands new album '
Viva La Vida
'.
Martin was being questioned on Radio 4's Front Row alongside bandmate Will Champion when presenter John Wilson asked him to discuss the album's lyrics.
"Did you start with the song Viva La Vida and the idea within that song of the deposed dictator looking back at his life?" Wilson asked.
To which Martin replied: "I'm not enjoying this. Can I have two minutes?"
When asked by Wilson if he was feeling the pressure, Martin said: "I just don't like talking about things."
Champion was forced top pick up the interview and when Martin finally returned he remained reluctant to talk about the album.
As previously reported, 'Viva La Vida' is expected top top the album charts on Sunday after pre-order sales of the album were being placed at a rate of one copy per minute with some retailers.
(by Jason Gregory)