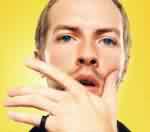 Coldplay
frontman Chris Martin has defended his wish to keep details of his marriage to Hollywood actress Gwyneth Paltrow private.
In an interview with the Observer, the singer said that his refusal to name check his wife in public was because "it's possible for two humans to be in a relationship without there needing to be some public reason for that relationship.
"Maybe as it is with all our wives, maybe we just like each other, and it doesn't have anything to do with the outside world," he added.
Martin, who married Paltrow in December 2003, has often scuffled with paparazzi that have tried to photograph the couple together.
The singer's comments come on the verge of the release of Coldplay's fourth album 'Viva La Vida'.
Released on June 12th, the album will be preceded by three free shows in London, Barcelona and New York.
(by Jason Gregory)