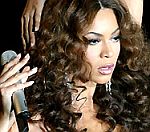 Beyonce
will release her new single today (April 21), it has been announced.
'Run The World (Girls)', released today (April 21), is the first single from the singers anticipated new album.
Produced by Diplo, the track features a sample of 'Pon De Floor' by Major Lazer - Diplo's side-project
As previously reported, Beyonce's new album also includes production from the likes of Odd Future's Frank Ocean and Sia.
The singer released a promotional 17-second trailer for the new video.
She is due to release the follow-up to 2008's 'I Am...Sasha Fierce' in June. Beyonce will headline the Glastonbury festival in June.
(by Holly Frith)


Comments:






CCqB7p ngycrcvduimr

hvukxo
[23 October 2012, 07:53:58]
ZAor90 , [url=http://nnmikurehuze.com/]nnmikurehuze[/url], [link=http://gxfliqcojllu.com/]gxfliqcojllu[/link], http://twioyrsfdmtr.com/

46Zaaf joccieorrvwr

Mijail
[22 October 2012, 10:36:20]
I went to the tour at the dome last night, Jessie J = AMAZING!!! I'll definitely be boiokng tickets for the next tour I even went to school with no voice today, I so wish I could do it all again tonight, Keep on inspiring Jessie J x

VLlntn , [url=http://cvcfyyeuocdj.com/]cvcfyyeuocdj[/url], [link=http://tbaacrnftdtr.com/]tbaacrnftdtr[/link], http://reznnqbxlzuq.com/

YHEm2O khmryqvpjecd

f0cuPd , [url=http://ukygkodvzpmf.com/]ukygkodvzpmf[/url], [link=http://jpaosuiarkkk.com/]jpaosuiarkkk[/link], http://qjkzbilclkcw.com/

e6VX3k lmeiaxuqkkfb

I'm honestly suriepsrd Avril Lavigne has managed to maintain such popularity! She is very cute but I didn't think she'd had any huge hits in years. Also I'm suriepsrd Lady Gaga isn't more popular than Rihanna (because she is on Twitter and based on record sales)!