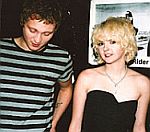 The Subways
' singer Billy Lunn claimed his band's Pyramid Stage performance was the alarm call the festival needed.
Speaking straight after his lunchtime slot, he said: "We've been an alarm clock for everyone, it was quite early. Wake up! I think we managed that, everyone was singing, oh what fun."
In 2005 their Pyramid Stage slot was cancelled because of lightning, so it was an emotional occasion for the three-piece to finally play on the Pyramid Stage.
"In 2005, I think it was an omen for the whole year, so today was a bit of a homecoming, an amazing moment.
"I love everything about this place, just the whole aesthetic of the festival," he shouts, beer in each hand, clearly enjoying the aftermath of a career-highlight permrmance.
"We've gotta shoot off now, more shows to play. But I wish I could stay, you guys enjoy yourself."
(by Greg Rose)