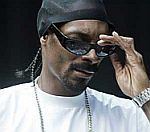 Snoop Dogg
has paid tribute to
Nate Dogg
, who has
died at the age of 41
.
The rapper – real name Nathaniel D. Hale – died on Tuesday (March 15). A cause of death is not yet known.
Snoop Dogg, who worked with Nate Dogg on a number of collaborations, reacted to the rapper's death on Twitter.
He wrote: "We lost a true legend n hip hop n rnb. One of my best friends n a brother to me since 1986 when I was a sophomore at poly high where we met."
Snoop Dogg said he "loved" the rapper and would "miss" him, but was "so happy I got to grow up wit u and I will c u again n heaven".
He added: "RIP Nate Dogg."
Nate Dogg had been battling health issues since suffering two major strokes: a first in 2007 followed by another in 2008.
Born in Long Beach, California, the rapper exploded onto the hip-hop scene with his appearance alongside Warren G on 1994's 'Regulate'.
(by Jason Gregory)