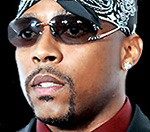 Nate Dogg
's funeral will take place this Saturday (March 26).
The rapper, most famed for his hit 'Regulate' with Warren G, died on Tuesday (March 15) at the age of 41.
According to his sister, Pamela, the funeral service will be held at Long Beach Cruise Terminal, California on Saturday morning and will be open to the public.
Nate Dogg had been battling health issues since suffering two major strokes: a first in 2007 followed by another in 2008.
Snoop Dogg, 50 Cent and Eminem, all of whom had collaborated with Nate Dogg, have paid tribute to the star.
(by Holly Frith)