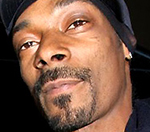 Snoop Dogg
has said he and Charlie Sheen are recording some "real classic material" together.
Sheen, who has courted huge attention in recently following a series of outbursts, revealed last month that he was working with the rapper.
In an interview on George Lopez Tonight, Snoop Dogg said the songs they are recording were "something real crazy".
He added: "He's a brilliant guy. I'm having so much fun just being around him. I love having relationships with different people who aren't the normal, who aren't the usual. We're making some real classic material.
"We'll probably put something on Twitter in like three or four days."
(by Jason Gregory)