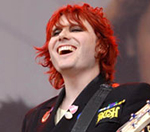 Manic Street Preachers
bassist Nicky Wire is set to release a book of polaroid photographs that catalogue the band's career.
The book, entitled Death Of The Polaroid: A Manics Family Album, will be published by Faber in November.
Wire has been keeping a visual history of the band's twenty-year career from 'Generation Terrorists' up until last year's 'Postcards From A Young Man'.
The book has been edited down from over 1000 photographs and includes commentary written by Wire.
"The genius of polaroid is that you can pinpoint a memory really easily," Wire said in a video interview about the book, which you can watch below.
Death of The Polaroid: A Manics Family Album is one of two books the bassist is due to release with Faber. Details about the second one have not bee revealed.
(by Jason Gregory)