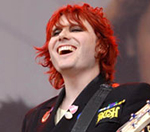 The Manic Street Preachers
have said that they are 'gutted' about the lack of success of their recent single.
'Some Kind of Nothingness', taken from 2010's 'Postcards From A Young Man', was the their first single since 1991 not to break the UK Top 40.
"My excitement always turns into a real dose of fear when I'm waiting for a chart position or to find out whether the radio's going to play our record. It's like waiting for that envelope to drop through the door and see you've got a D in geography," bassist Nicky Wire told Spinner.
He added: "I was quite distraught that 'Some Kind of Nothingness', our single, missed the Top 40. I was gutted."
Manic Street Preachers frontman James Dean Bradfield recently criticised the current state of the UK music charts.
(by Holly Frith)