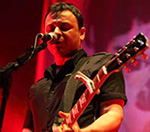 Manic Street Preachers
have confirmed that they will perform on Strictly Come Dancing on Saturday (December 5).
The band posted their news on their Twitter account Twitter.com/manicspostcards: "Unbelievable – we have got Strictly Come Dancing on Sunday. Mass communication indeed. What to wear?"
They are set to play a homecoming gig in Wales next month, which will see them play songs from new album 'Postcards From a Young Man' as well as classic tracks.
Meanwhile, Manic Street Preachers are set to release a special live EP next week which includes new single 'Some Kind Of Nothingness'.
(by Holly Frith)