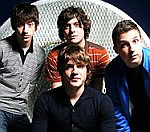 The
Arctic Monkeys
have landed themselves in a spot of trouble whilst in LA, it has been reported.
The band, who are currently staying in the £3milllion mansion in LA whilst they record their new album, have ignored the owner's smoking ban, The Sun reports.
A source told the paper: "They left the place looking pretty messy as you might expect with a bunch of guys. But it's the smell that's the problem."
"It stated in the rental contract they were not allowed to smoke indoors. But the house and the furniture stink of smoke. The smell is so bad furniture and other items may have to be replaced."
As previously reported, Arctic Monkeys are recording their fourth album with producer James Ford.
Meanwhile, Arctic Monkeys have announced details of two huge hometown gigs in Sheffield this summer.
(by Holly Frith)