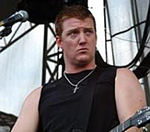 Them Crooked Vultures
' bassists John Paul Jones says that a second album is in the pipeline.
The band, who have just completed a massive tour, will re-group with Foo Fighter's Dave Grohl and Queens of the Stone Age frontman Josh Homme in the near future.
Jones told the BBC 6 Music: "Some stuff we've worked on, but we're gonna write pretty quickly and just put it down... we may be a year or so."
He added: "It will mainly be excess material from the first album, material we started and never finished because we had to go and play the stuff we already recorded!"
Bandmate Grohl recently announced that the Foo Fighters will play two shows at Milton Keynes Bowl in July 2011.
Tickets went on sale on November 5 at 9am.
(by Holly Frith)