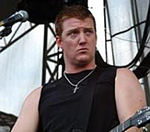 The makers of Rock Band have announced that
Them Crooked Vultures
' 'New Fang' will be available to play on the game from today (November 17).
To coincide with the release of their self titled debut album the band consisting of Dave Grohl, Josh Homme and John Paul Jones have made the song playable on Xbox 360, Nintendo Wii and Playstation 3.
The song will cost Xbox users 160 Microsoft points, Nintendo customers 200 Wii points and PS3 gamers 99 pence.
In a statement the band said, ""Them Crooked Vultures are keenly aware of the different ways in which modern music fans digest new music and are therefore especially happy to be able to offer the first single as a downloadable Rock Band game track."
(by David Renshaw)