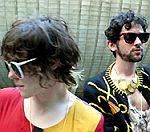 MGMT
have revealed that their record label will be involved with the recording process for their third album.
The Brooklyn duo said they had re-evaluated their relationship with their label following poor sales for their second album 'Congratulations'.
But Andrew Van-Wyngarden said fans should still expect a change in sound with their next effort.
"We have some ideas and have been talking about possible directions of where to go next," he told the Daily Record.
"We are just in much more positive mental states than when we wrote 'Congratulations'. We're less anxious. We've been looking at relationships with the label during the recording process and it's quite different this time.
"They'll be more involved and not give us as much freedom."
MGMT are currently in the middle of a UK tour, which concludes with two gigs in London on September 29 and 30.
(by Jason Gregory)