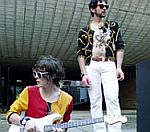 MGMT
's Andrew VanWyngarden has said that he wouldn't take the much talked about drug mephedrone.
The substance, which has been the subject of huge debate in recent months, is to be classified as a Class B drug from April 16.
VanWyngarden said the US group had read about the drug, but believed officials would prove that it had dangerous side effects.
"It doesn't sound like something I'd want to try," he told Shortlist magazine.
"They're going to come out with something to show it's really bad for you physically and people will stop doing it."
But his bandmate, Ben Goldwasser, added that the same reasons "didn't stop people doing ecstasy".
VanWyngarden then replied: "But ecstasy isn't really bad for you."
Mephedrone, which is also known as meow meow, has been linked with several UK deaths.
Meanwhile, MGMT's new album 'Congratulations' is on course for a top-3 debut on this week's UK album chart.
(by Jason Gregory)