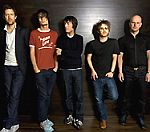 Radiohead
have completed another batch of new material, bassist Colin Greenwood has revealed.
Greenwood said the Oxford band had begun thinking how to release the follow-up to 2007's 'In Rainbows'.
The album, which topped the UK and US charts, was originally available online, with fans able to chose how much they paid for it.
"Three years later, we have just finished another group of songs, and have begun to wonder about how to release them in a digital landscape that has changed again," Greenwood wrote in an editorial for Index On Censorship.
"It seems to have become harder to own music in the traditional way, on a physical object like a CD, and instead music appears the poor cousin of software, streamed or locked into a portable device like a phone or iPod."
Greenwood added that the band had "yet to decide how to release our next record". It also unclear when the as-yet-untilted album will be released.
In August, singer Thom Yorke played a new Radiohead song as he made a solo appearance at the Big Chill festival.
(by Jason Gregory)