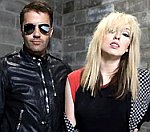 The Ting Tings
have announced details about their new single 'Hands'.
The song was written and produced by the duo's Jules De Martino and Katie White, and mixed by Calvin Harris.
It is scheduled to be released on October 11 on digital download and limited 12" vinyl.
'Hands' is the first piece of new material from the band since their 2008 debut 'We Started Nothing', which sold over two million copies.
The album won the prestigious Ivor Novello Award for Best Album in 2009.
(by Jason Gregory)