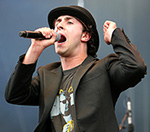 Maximo Park
frontman Paul Smith is set to release a solo album later this year.
Smith's debut project, entitled 'Margins', was co-produced by Andy Hodson and is due to be released on October 11.
The 11-track album will be available via his own Billingham Records Label.
You can hear the album track 'North Atlantic Drift' now on Smith's official website.
The tracklisting for 'Margins' is;
North Atlantic Drift

The Crush And The Shatter

Improvement/Denouement

Strange Friction

While You're In The Bath

This Heat

I Drew You Sleeping

Alone, I Would've Dropped

Dare Not Dive

I Wonder If

Our Lady Of Lourdes

The Tingles

Pinball
(by Jason Gregory)