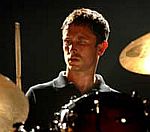 Former
Babyshambles
drummer Adam Ficek has broken his silence over his departure from the band.
The group, fronted by Pete Doherty, parted company with Ficek earlier this year amid reports that he wanted to focus on his side-project, Roses Kings Castles.
The drummer, who joined the group in 2005, said he had been through a "very dark, miserable and upsetting time" in recent months.
"Something I feel is an intrinsic part of me, has been lost," he wrote in a post on his blog.
"It's very difficult to go into detail about the situation – it's all a bit wobbly but, I'll do my best when things settle a little, apologies, I know you're all waiting for the gossip!"
He has been replaced in Babyshambles by former Supergrass drummer Danny Goffey.
Meanwhile, Ficek went on to add that he was in the process of finalising Roses Kings Castles next tour, which is scheduled for November.
(by Jason Gregory)