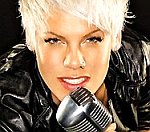 Pink
says she has been left "seriously sore" after being injured in an incident on stage at a gig in Germany.
The star was rushed to a Nuremberg hospital on Thursday (July 15) after a harness was incorrectly secured to her waist.
Video footage shows Pink being dragged off stage and into a security barrier.
Initial reports suggested the singer's injuries may be serious, but she later assured fans on Twitter that she was expected to make a full recovery.
"Ok all my lovers out there - nothings broken, no fluid in the lungs, just seriously sore," she wrote on Twitter.
"I made that barricade my b*tch!!!! Thanx nurnberg:( (sic)."
Pink had earlier tweeted from the ambulance on the way to the hospital, telling fans that she was "embarrassed and very sorry".
The singer is currently performing around the world on her Funhouse tour.
(by Jason Gregory)