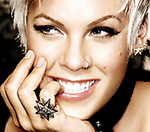 Pink
has caused controversy with her latest video for single 'F*cking Perfect'.
The video shows an anorexic-looking model slashing herself with razor blades whilst in a bath.
"Cutting and suicide, two very different symptoms of the same problem, are gaining on us. I personally don't know a single person who doesn't know at least two of these victims personally," Pink told The Sun
She added: "A lot of us have seen certain starlets showing off their latest scars on a red carpet somewhere, usually right before they head back to their favourite rehab. It's a problem, and its something we should talk about."
"We can choose to ignore the problem, and therefore ignore this video, but that won't make it go away."
Meanwhile, Pink has said that parents should be more forceful when dealing with their disruptive children.
(by Holly Frith)