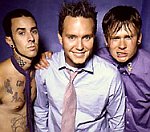 Blink-182
's Mark Hoppus has confirmed that the band intend to start work on a new album this year.
The reformed group are due to play a series of shows in Europe this summer, followed by a gig in California in September.
Hoppus said that after the latter date they plan begin immediate work on the on the follow-up to 2003's 'Blink-182'.
"In June and July we will be at the rehearsal spot, getting ready for the European tour this summer, and writing new songs," Hoppus wrote on his blog.
"When the European tour is finished, we head back and play ONE SHOW in Southern California. Then that is IT for live shows for the rest of 2010.
"Why? Because we'll be in the studio recording the new Blink-182 album. Until it is finished."
Hoppus added: "I cannot be more clear on this: New Blink-182 music is on the way."
As previously reported, Blink-182 are set to headline the Reading and Leeds festivals in August alongside Arcade Fire and Guns N' Roses.
(by Jason Gregory)