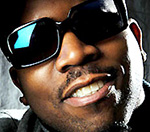 Big Boi
has announced the tracklisting for his new album '
Sir Lucious Left Foot: Son of Chico Dusty
'.
The record, which is released next month, features collaborations with Jamie Foxx and Gucci Mane.
The Outkast rapper's solo album also includes B.o.B, Yelawolf and Cutty.
'Sir Lucious Left Foot: Son of Chico Dusty' is released on July 6.
Meanwhile, Big Boi is expected to start work on a new Outkast album with bandmate Andre 3000 later this year.
The 'Sir Lucious Left Foot: Son of Chico Dusty' tracklisting:
Feel Me (Intro)

Daddy Fat Sax

Turns Me On (feat. Sleepy Brown & Joi)

Follow Us (feat. Vonnegutt)

Shutterbugg (feat. Cutty)

General Patton

Tangerine (feat. T.I. & Khujo Goodie)

You Ain't No DJ (feat. Yelawolf)

Hustle Blood (feat. Jamie Foxx)

Be Still (feat. Janelle Monáe)

Fo Yo Sorrows (feat. George Clinton, Too Short & Sam Chris)

Night Night (feat. B.o.B & Joi)

Shine Blockas (feat. Gucci Mane)

The Train Pt. 2 (Sir Lucious Left Foot Saves The Day) (feat. Sam Chris)

Back Up Plan
(by Jason Gregory)