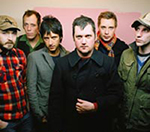 Outkast
's
Big Boi
is working with
Modest Mouse
on their new album.
The rapper revealed in a series of Tweets that he has been in the studio working on new tracks for the band's new album.
Big Boi tweeted: "Me and @mouche1 in the studio workin with Modest Mouse on their new album Turnt up ! Shout out to Issac and the crew!"
No further details about the collaboration have been revealed
Big Boi is due to release his new solo album this summer which features guest appearances from Big Boi's Outkast bandmate Andre 3000, T.I. and Jamie Foxx.
Meanwhile, the duo are expected to start work on a new Outkast album later this year.
(by Holly Frith)