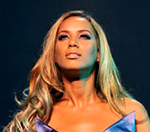 Leona Lewis
is auctioning off herself to raise money for Oxfam's Haiti earthquake appeal.
The singer will spend an afternoon with the highest eBay bidder and will happily go along for a dinner date, go horse riding or ten pin bowling.
The former X Factor winner said of the auction: "I've been amazed and inspired by the courage of people in Haiti.
"What's happened has been so devastating, and I really want to do anything I can to help. At times like this we're reminded of how important it is to help, so please dig deep and thanks to all of your for your support."
Bidding currently stands at £1,950 and closes at 4pm next Monday (March 1). You can place your bid for Leona Lewis here.
Other Leona related items up for auction are a haircut & style by Leona's hairstylist Ben Cooke, a lesson from her make-up artist Jane Bradley and a signed presentation disc & goody bag from Leona.
(by Scott Colothan)