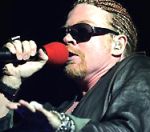 Guns N' Roses
played a lenghty, unannounced gig in New York last night (February 11) and even threw in an
AC/DC
cover.
To the surprise of the crowd at the John Varvatos store who were there for Fashion Week, Axl Rose and co. took to the stage after billed act Alberta Cross wrapped up their set.
If front of a crowd which included Hollywood actor Kevin Bacon, the band played a sprawling 17-song set including 'Paradise City', 'Sweet Child O' Mine', 'Welcome To The Jungle' and AC/DC's 'Whole Lotta Rosie'.
Guns N' Roses finally left the stage at around 2.45am. You can see a (poor quality) video below.
The set list was as follows:
You're Crazy

Mr. Brownstone

I Used To Love Her

Welcome To The Jungle

Street Of Dreams

Sorry

It's So Easy

Patience

Rocket Queen

Catcher In The Rye

My Michelle

Knockin' On Heaven's Door

Whole Lotta Rosie

Paradise City

Bonus:

Sweet Child O' Mine

This I Love

Nighttrain
(by Scott Colothan)