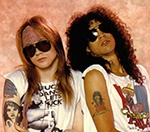 Former
Guns N' Roses
guitarist
Slash
has revealed that he would consider reuniting with the group if singer Axl Rose apologised to him.
Calls for the band to reunite in their original line-up have been constant for several years, but the pair are still not on good terms.
Asked whether he would reunite with the singer if he issued an apology Slash told the Los Angeles Daily News: "All things considered, that would be a call I would be surprised to get.
"If that really happened, I would have to clean out my junk drawer, too, but I don't see it happening. But if it did happen, I would do whatever it takes to at least have a conversation about it."
Rose is still performing live with Guns N' Roses, despite being the only member remaining from their original line-up.
(by Jason Gregory)