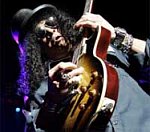 Former
Guns N' Roses
guitarist
Slash
believes
Robert Plant
made the right choice by choosing not to reform
Led Zeppelin
.
Despite the other members of Zep being interested in reforming following their one-off O2 Arena show in December 2007, Plant, of course, snubbed the idea - and Slash believes it was best that way.
He told GQ magazine: "When Robert Plant said he didn't want to tour after the comeback show, I thought that was the right thing. It was a special night, so why ruin it?"
Equally as stubborn as Plant, Slash revealed in the same interview that the original line-up of Guns N' Roses turned down over $100million to reform.
"Things were so abrasive by the time I left. I've never thought, 'Oh, wouldn't it be nice to get back together'. Because I know it wouldn't," he explained.
(by Scott Colothan)