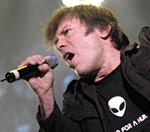 Iron Maiden
and
Rammstein
have been confirmed as the headliners of Sonisphere Festival 2010.
The UK leg of Knebworth has also been extended to three days – running from July 30th to August 1st.
Also joining the headliners are Alice Cooper, Motley Crue, Anthrax, The Cult, Iggy & The Stooges and Slayer.
Rammstein, who will be making their first ever UK festival appearance, said: "The great support that we've experienced from the UK fans has been beyond anything we expected.
"This will be the first time that Rammstein has appeared at a festival in the UK and we are looking forward to putting on a show that no-one will ever forget!"
Iron Maiden legend Bruce Dickinson said: "Knebworth has been the home of so many legendary concerts going back many years it really will be a privilege to play there.
"We enjoy the camaraderie of playing great festivals and are very much looking forward to getting back out to do some shows next summer and, as it will be over two years since we played the UK, we will certainly be looking to deliver a memorable and spectacular night for our fans!"
(by Scott Colothan)