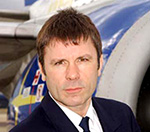 Iron Maiden
frontman
Bruce Dickinson
is set to fly the Liverpool squad to Italy for their Europa League match against Napoli.
Dickinson, who has a commercial pilot's licence, will captain the flight from Liverpool John Lennon Airport to Naples.
The singer was originally due to fly to Iceland, but said flying the Astraeus Airlines plane to Naples was "a lot more interesting".
Dickinson doesn't have an allegiance to any football team, but has said he hopes to bring Liverpool good luck ahead of their match, reports BBC News.
The singer has previously flown Iron Maiden aroudn the world on their tours.
Liverpool, who have recently be bought out, are due to play Napoli on Thursday (October 21).
(by Jason Gregory)