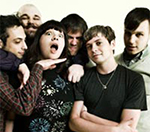 The 2009 edition of M for Montreal came to a close last night with a headlining performance from
Fucked Up
.
The Toronto band unleashed a raucous set at Metropolis, playing songs from their Polaris Music Prize-winning album 'The Chemistry of Common Life'.
Singer Damian Abraham took to the crowd after one song and spent the rest of the set crashing into members of the audience.
Fucked Up's performance came at the end of a long final night in Canada, which began with sets from Xavier Caféïne and Mistress Barbara.
The DJ, who was joined last night by a full backing band, was followed on stage by former Smashing Pumpkins and Hole star Melissa Auf Der Maur.
The local singer-bassist played songs from her 2004 debut 'Auf der Maur' and long-awaited follow-up, which is due out next year.
Malajube also put in a strong performance, drawing an impressive reaction from the local crowd.
But it was DJ Champion, performing with his G-Strings, who provoked the biggest crowd response of the weekend.
The DJ, real name Maxime Morin, delivered a relentless performance, which included one near 15-minute epic.
Elsewhere, Champion's set focussed on tracks from his 2009 album 'Resistance'.
Earlier in the day, international delegates mixed with locals at a showcase of new and emerging French acts.
One of the standout performances at Café Campus came from opening band Caracol.
Now in its fourth year, M for Montreal was established by music fan Sébastian Nasra and Glastonbury consultant Martin Elbourne.
(by Jason Gregory)