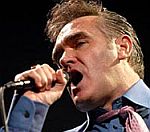 Morrissey
is the greatest lyricist in the history of British popular music, according to a Scottish academic.
In a new book, Morrissey: The Pageant of His Bleeding Heart, Dr Gavin Hopps compares the singer to literary greats such as Oscar Wilde and Philip Larkin.
Dr Hopps, who has written a series of papers on pop music and poetry, also aligned the former Smiths star's lyrics to a number of comedy legends.
His book focuses on the singer's use of different writing techniques, including love and alienation, reports the BBC.
It is due to be launched at Blackwell's University bookshop in Manchester on Saturday.
(by Jason Gregory)