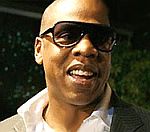 Jay-Z
says he learnt how to become a great live performer by watching
U2
's Bono.
The rap megastar, who plays a sold-out show at London's Alexandra Palace tonight, claims he was awful before he took inspiration from the U2 frontman.
He explains: "These days, I'm the shit, but I used to be a horrible performer. I was terrible. I'm not really an animated guy so I had to figure out a way how to convey my message and talk to people in compact movements, all the while, being entertaining.
"There is a very thin line between not moving and being boring. Bono knows how to exaggerate his movements and he knows how to have that conversation, without moving around much. He's a dynamic performer."
(by Scott Colothan)