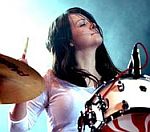 The White Stripes
drummer Meg White is to auction her drum kit to help raise money for the Detroit musician Jim Shaw, who was recently diagnosed with cancer.
White's kit, which featured in the band's video for 'The Hardest Button To Button', is one of a number of items in the auction.
Other lots in the sale, which will take place at the Cpop Gallery in Detroit on February 7th, include rare photographs of Iggy and The Stooges.
All proceeds from the auction will go to Shaw, who was forced to have part of his colon removed last month in his treatment against the disease.
(by Jason Gregory)