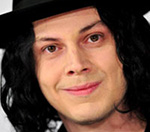 Jack White
has been made an ambassador by his hometown.
The singer received the first-ever Music City Ambassador Award in Nashville on Saturday (April 16).
The award was given to White for his contribution to music and for putting his hometown back on the musical map, reports Spinner.
"Jack White's individual talent and unique creative spirit bridges gaps between genres and generations and I couldn't be more pleased to thank him for his work on behalf of the music industry and its hometown," said Mayor Karl Dean.
White added: "Every day we're excited to be in a city that truly fosters local music and businesses and new idea. I don't know another town whose mayor is on the board of its music council." 
Meanwhile, former White Stripes Jack White has said he has no plans to ever form a new band.
(by Holly Frith)