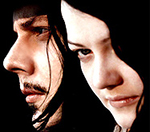 The White Stripes
will release their final gig as a live album.
The band, who announced their split in February, will release an exclusive 'Vault Package' for fans.
Their last gig on July 31, 2007 in Southaven, Mississippi will be realeased as a live album on vinyl entitled 'Live in Mississippi'.
The package will also include a 7" of early recordings from the band as well as a cover of Otis Redding classic "I've Been Loving You Too Long."
The band will also release DVD 'Under Moorhead Lights All Fargo Night', with unseen footage capturing the band immediately following the release of their album 'De Stijl'.
(by Holly Frith)