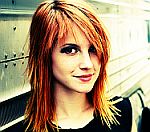 Paramore
have announced they will be penning two exclusive new songs for the upcoming soundtrack to the movie 'Twilight'.
The first track, entitled 'Decode', will be the lead single for the movie and will see the band releasing a new music video in early November to accompany the track. The second track is still currently untitled.
"Twilight is the first series of books I've ever read. I didn't get into the Harry Potter series even though I love the movies," stated singer Hayley Williams. "Twilight really caught my attention and held it. I'm really excited to see the book adapted to film and excited that our band gets to be a part of the phenomenon."
The 'Twilight' soundtrack will be released November 4 through Chop Shop/Atlantic Records.
(by Victoria Tsigonis)