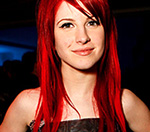 Paramore
frontwoman Hayley Williams has revealed that the band plan to release new music this summer.
The singer said the band planned to hit the studio after returning from a South American tour this month.
The new songs, set to arrive before a full album, are likely to include 'In The Mourning', which Williams recently debuted on her Tumblr page.
"We are going to go tomorrow to South America to do a tour. And then when we get back, we're hoping to record a batch of songs to release over the summer," Williams told AOL Music.
"All the details aren't worked out yet, but we definitely do want to release ['In the Mourning'] and some other ones before we put out a record." The songs will be the band's first since Zac and Josh Farro quit the group at the end of last year.
(by Jason Gregory)