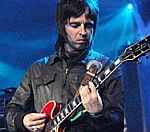 Oasis
guitarist Noel Gallagher has hit out at
Metallica
and
Bloc Party
, three years after branding the latter "appalling indie rubbish".
Gallagher said he liked everything about Metallica, who release their new album next week, "except their music."
Asked why he didn't like the group, he replied: "Metal is not my thing. Wanna know why? Black drum sticks ... no need."
Gallagher's comments about the metal band come less than a month after Metallica's drummer Lars Ulrich said the Oasis guitarist had helped him quit drugs.
Ulrich told one publication that he had realised that "'if he [Gallagher] can do it, everybody else can do it'."
Gallagher was altogether less diplomatic towards Bloc Party, who released their new album 'Intimacy' digitally last month.
"I wouldn't go out and buy a Bloc Party record 'cos I know it would be shit," he told musicradar.
Oasis are currently on the Canadian leg of their North American tour and will return to the UK at the end of September for a concert at the Eden Project in Cornwall.
They release their new album, 'Dig Out Your Soul', on October 6th.
(by Jason Gregory)