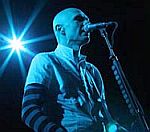 The Smashing Pumpkins
have announced they will be premiering their new song, 'G.L.O.W.' exclusively in the game Guitar Hero World Tour.
The song marks the first time in the history of the game that a band has exclusively recorded a track to be released first to Guitar Hero fans.
The new track will be included with two other Smashing Pumpkins hits, '1979' and 'The Everlasting Gaze' which will be available post launch of the game as a three-song downloadable package.
Singer Billy Corgan will also be appearing as a character in upcoming video game playing the band's 1994 hit 'Today'.
(by Victoria Tsigonis)