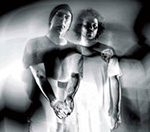 UNKLE
have announced details of their fourth studio album, '
Where Did The Night Fall
'.
Released on May 10, the record features guest appearances from former Queens of the Stone Age member Mark Lanegan and San Francisco's Sleepy Sun.
A song from the album, entitled 'Natural Selection', which features The Black Angels, is available to download now via UNKLE's official website.
Meanwhile, UNKLE have also announced three select tour dates in Russia and the UK this spring.
They will play Moscow on May 21, St. Petersburg on May 22 and Koko in London on May 25.
The tracklisting for 'Where Did The Night Fall' is:
Nowhere

Follow Me Down (feat Sleepy Sun)

Natural Selection (feat The Black Angels)

Joy Factory (feat Autolux)

The Answer (feat Big In Japan (Baltimore))

On A Wire (feat ELLE J)

Falling Stars (feat Gavin Clark)

Heavy Drug

Caged Bird (feat Katrina Ford)

Ablivion

The Runaway (feat ELLE J)

Ever Rest (feat Joel Cadbury)

The Healing (feat Gavin Clark)

Another Night Out (feat Mark Lanegan)
(by Jason Gregory)